France is famous for wining and dining. So, it comes as no surprise that some of the most expensive wines globally, come from this country as well. The Burgundy region in eastern France is packed with small picturesque sub-regions, that each produces wine with a unique character.
Wine Production
Burgundy wine is made mostly from 2 primary grape varietals – Pinot Noir and Chardonnay. Pinot Noir forms at least 60 percent of the overall production and the chardonnay grape varietal is usually around 37 percent. The remaining is divided among aligoté, gamay, and other grape varietals.
Wine production, primarily, works in three different ways in the Burgundy region – the négociants, the co-operatives, and owners who own both vineyards along with the winery. The négociants purchase grapes, or even wine directly from smaller producers and market these products under their own brand name.
The co-operatives for a closed group of organized grape cultivators who combine their resources to establish a winery for joint use. The last method is less common practice here and is attributed to the higher costs of owning and maintaining vineyards and wineries.
Climate
With a predominantly continental climate, the Burgundy region experiences a very short span of summers and the winters are usually cool. In reality, these are not ideal conditions for grape growth. In addition to this, the frost and hail that comes with the advent of spring can prove to be fatal for flowering vines.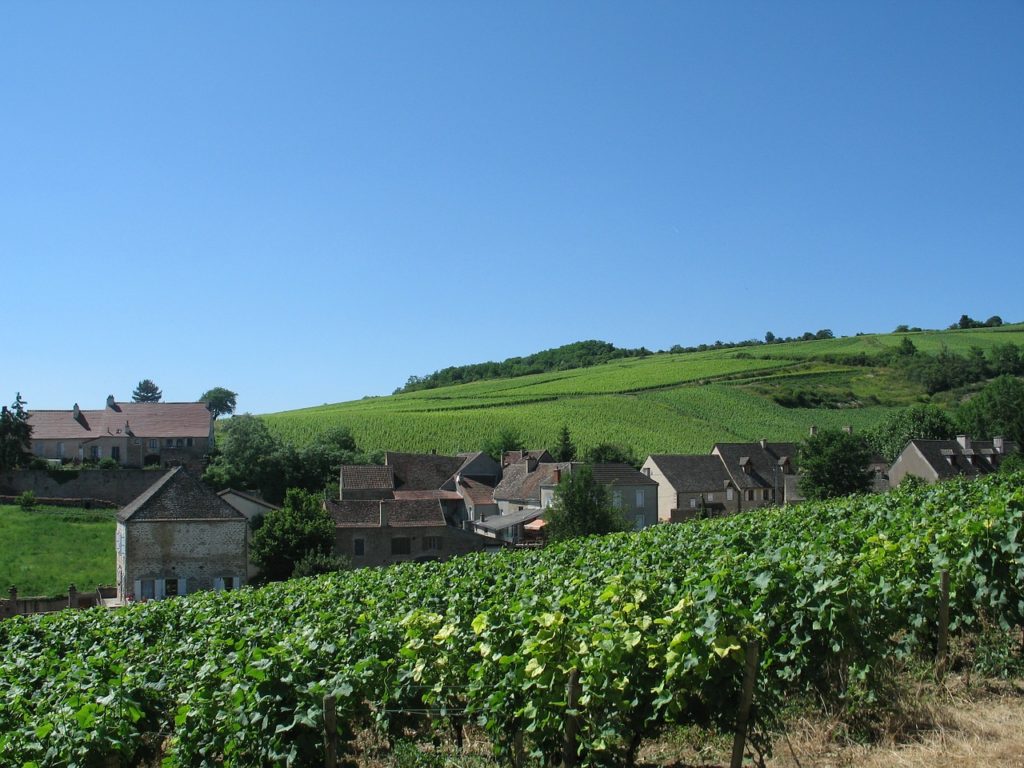 Soil
While the climate might not be favorable at all times, the soil makes up for it. Soil found in the Burgundy region vineyards is rich in minerality and adds extensively to the character of the wine. This is poor soil for most crops but it seems grape vines that struggle produce better wine. Which is probably a strong factor why winemaking is an important tradition for this region. In fact, in July 2015 the patchwork quilt designs of Burgundy vineyards were given the status of being a World Heritage Site by UNESCO.
Classification of Burgundy Wines
If you are interested in purchasing fine quality Pinot Noir or Chardonnay from Burgundy, then it is important to understand their wine classification,
Grand Cru (1%) – these wines are produced from the region's top plots or climats. Overall, there are more than 30 Grand Crus and 60% of this production is that of Pinot Noir. These wines command unbelievable prices due to their powerful and complex taste.
Premier Cru (10%) – there are around 640 Premier Cru climats in Burgundy that produce this classification. These wines are slightly more intense than the Village wines.
Village Wines (37%) – the Burgundy region includes nearly 44 villages like Chablis and Macon and these wines are produced here. These wines are named after the towns from which the grapes are sourced.
Regional Wines (52%) – these wines are light and lively and are not produced from any set wine region.
Interestingly, Burgundy is not the largest wine-producing region in terms of volumes. However, it is still one that generates truck-loads of revenues in comparison to any other region in the world. This is because of its 1% of Grand Crus that are so exclusive and expensive. It is this 1% that attracts wealthy buyers worldwide who want to have bragging rights that they have some in their cellar.